Frequently Asked Questions
How can I get to Svalbard?
---
There are two Norwegian operators - Scandinavian Airlines (SAS) and Norwegian airlines – that arrange flights to Longyearbyen from Tromsø and Oslo offering relatively affordable prices. For more information please visit
www.sas.com and www.norwegian.com.
Regardless of the "bundle" of flights, the luggage cannot be sent directly to Svalbard and it is necessary to get it in Oslo or Tromsø!
---
Do I need a Visa?
---
All travellers to Svalbard need to go through passport control. The identity of all travellers between Svalbard and the Norwegian mainland will be checked both upon arrival and departure. If you need a visa to enter Norway, please note that you will had a second entrance to Norway again after your trip to Svalbard.
---
What are the accommodation conditions?
---
LONGYEARBYEN - RUSSKIY DOM GUESTHOUSE
RUSSKIY DOM Guesthouse in Longyearbyen is a new and modern 2-storied wooden house located right on the shore of the Adventfjorden. It can accommodate up to 16 people.
4 rooms with 4 bunk-beds each are simple, come with no frills and have terrific value for money.
The price includes bed clothes and a towel.
Large breakfast room with good cooking facilities.
Shared showers. Free Wi-Fi access. Double /single accommodation is available in other hotels of Longyearbyen for additional charge. BARENTSBURG HOTEL
Modern and full service hotel with a view towards the gorgeous Olaf Mountain to the East and fascinating Grønfjord to the West. Has newly-refurbished 43 rooms, whereof 38 standard double/twin rooms and 4 suite/ family rooms. Finnish sauna. Drying cupboard is available upon each floor.
The restaurant where you get a great view of the bay Grønfjord can offer both European and Russian cuisine.
The bar is open until 2 am. Souvenir shop is on the 1st floor. WI-FI is free of charge PYRAMIDEN HOTEL
is seasonally open since 2013 - with half or full board. Located near spectacular Glacier Camp vis-a-vis next to the impressive ice front of Nordenskiöld glacier. Has 43 rooms, including 38 standard and 5 suite rooms. Newly-refurbished rooms are each equiped with toilet and shower.
Restaurant, bar and a souvenir shop on the 1-st floor.
NO Wi-Fi and/or MOBILE CONNECTION for guests.
---
Can I pay with a card?
---
METHODS OF PAYMENT FOR GOODS AND SERVICES IN SVALBARD. The national currency of Norway is the Norwegian krone (NOK).
In Longyearbyen: Norwegian crowns (NOK) and bank cards are accepted everywhere. Dollars and euros are not accepted everywhere and at a very "inhuman" rate. There is an ATM for the whole village, as well as for the whole Svalbard, in a bank branch. The bank operates on a rather short schedule, while not performing currency exchange. Bank cards are accepted everywhere and almost everything (except AmEx cards).
In Barentsburg: Norwegian krona (NOK), dollars, euros and bank cards are accepted in the tourist infrastructure (hotels, restaurants, souvenir shops). In the grocery and convenience store, payments are made only by bank cards. In Pyramiden: Norwegian krona (NOK), dollars, euros and bank cards are accepted in the tourist infrastructure (hotel, restaurants, souvenir shops).
Cross-rate of 1 euro and 1 dollar = 8 Norwegian kroner.
---
What are the prices on Svalbard?
---
Despite the fact that Svalbard is a TAX FREE zone, this is Norway and the Arctic, so prices, even by the standards of continental Scandinavia, are very high. First of all, this applies to restaurants, bars and shops of tourist equipment. There are a lot of very good, really high-quality tourist equipment of leading world and Norwegian brands. But expensive.
There are a lot of souvenirs and the choice "for every pocket". In addition to a wide variety of souvenirs with attributes of the Arctic and Spitsbergen, there are a lot of "handicrafts" - both Norwegian and Russian.
You can buy a real Norwegian sweater of rough knitting, slippers made of a seal skin and much more, for example, a fox skin.
Despite the overall high cost of equipment, some items may be much cheaper than on the mainland (for example, high-quality snowmobile equipment).
The average score (without alcohol) in Longyear's cafes and restaurants is 350-450 NOK, in Barentsburg - 250-350 NOK, but meals in Barentsburg are included in the tour price of some tours.
Souvenirs mainly from 20 to 350 NOK. Souvenirs are sold almost everywhere: in souvenir shops, ordinary stores, on counters in hotels and in museums.
One of the brightest souvenirs is sending a postcard to relatives, friends, relatives or to yourself from 78 degrees north latitude. There are Norwegian post offices in Barentsburg, Pyramiden and Longyearbyen. In addition to postcards, at the post office you can choose not only stamps, but also various stamps of "Arctic" subject matter.
---
Is the trip safe?
---
Guides working on the route have a fairly high level of knowledge and experience on the snowmobile routes in the north and in the Arctic region of Russia. Some of them spend 3-4 season in Svalbard or live here permanently. Most guides have tens, if not hundreds of thousands of kilometers of covered snowmobile routes. Many of them have completed various courses, including the International Red Cross First Aid Courses. In addition, before the start of the season, all guides take an internal course in our company. All this will allow you to overcome the route with maximum comfort and safety. All instructors are ready for any unexpected situation that may happen to you during the trip. On the route, instructors have a first-aid kit with all necessary medications, however, we recommend that you take a personalized first-aid kit. Please also notify the travel agency in advance about the presence of any chronic or acute diseases.
In addition, in order to ensure safety and prevent emergencies, as well as observing the Svalbard Law, the Center for Arctic Tourism "Grumant" FSUE "GT" Artikugol ":
has the approval of the Governor of Svalbard on all routes;
has a mandatory financial guarantee of 50,000 NOK in case of rescue by the Svalbard Rescue Service (the maximum estimated time of arrival of rescuers to any point of Spitsbergen is no more than 2 hours, to any point of the snowmobile route no more than an hour);
has emergency satellite beacons registered with the Norwegian National Communications Authority.
Guides have radio communications, satellite phones, GPS trackers and an "emergency kit" in case of unforeseen rescue.
---
What is the Insurance Policy?
---
Grumant travel company provides insurance that covers all the expenses related to search, rescue, and transfer of affected people in case of emergencies occurring in the course of the tourism services rendering. Ordinary travel insurance will not normally cover the cost of a search and rescue operation (SAR). For participation in our longer trips, the individual participant is required to have taken out an individual travel insurance policy. Such insurance may be purchased from a travel agent or a personal insurance company. In the event of the occurrence of the insured event, all expenses carried under the concluded insurance contract lie with the insurance company. We recommend that customers take out cancellation insurance with their private insurance company, which should cover among others cancellation due to illness etc.
---
What are the Safety instructions?
---
Instructors are instructed in safety and snowmobile management. It consists of a theoretical part and a practical part. You are given the basic provisions of safety, traffic rules in the column. The signals given by the instructor at the sight of obstacles are explained.
The tourist is obliged to comply with the main provisions of safety instructions:
carry out orders of the instructor - team leader on the entire route;
observe the pace of movement set by the instructor.
A tourist is liable in the event of intentionally causing his actions harm to the Company or in case of violation of safety regulations when driving a snowmobile.
The tourist is obliged to respectfully behave in relation to the locals, take care of nature.
Driving a snowmobile while under the influence of alcohol or drugs is strictly prohibited. If alcohol intoxication or drinking is detected, the instructor is obliged to refuse the client to participate in the tour.
---
Can I buy alcohol on Svalbard?
---
Svalbard - a zone of very severe prohibition. There are reasons for this, and not without justification.
The alcohol limit on Svalbard is 0.2. So you can buy no more than 2 liters of strong alcohol in one hand, while presenting a boarding pass or a plane ticket. Without a boarding pass alcohol in the store will not sell.
There is a regular alcohol control out in the field made by the Governor of Svalbard.
Sale of alcohol is carried out from 12 to 18 hours.
Without restriction, you can drink in bars and restaurants (within reason and behaving decently, for the barman has the right not to serve the client there either, if he believes that he is too drunk or is not behaving properly).
In addition, strong alcohol is sold only until 1 am, and it is strictly forbidden to take the purchased alcoholic beverages outside the bars and restaurants. As well as bring in their own, which threatens the visitor with a large fine.
Pay attention that if a tourist is not sober, he/she will not be allowed to join the trip. No refund is available in this case.
---
Which law is applied?
---
It is important to remember that Norwegian laws apply in the territory of Svalbard. And, despite the fact that the inhabitants of Svalbard are very hospitable and kind, the law is the law, and very few and imperceptible policemen monitor their execution. In case of violation, you may face both administrative and criminal liability. Not only the inhabitants of Svalbard are under the protection of the law, but also the animals and nature in general. There is no sense in listing all possible inadvertent offenses, but there are some quite unexpected ones among them, therefore we recommend that you listen to guides who will try to explain everything and warn you against trouble.
---
When to travel?
---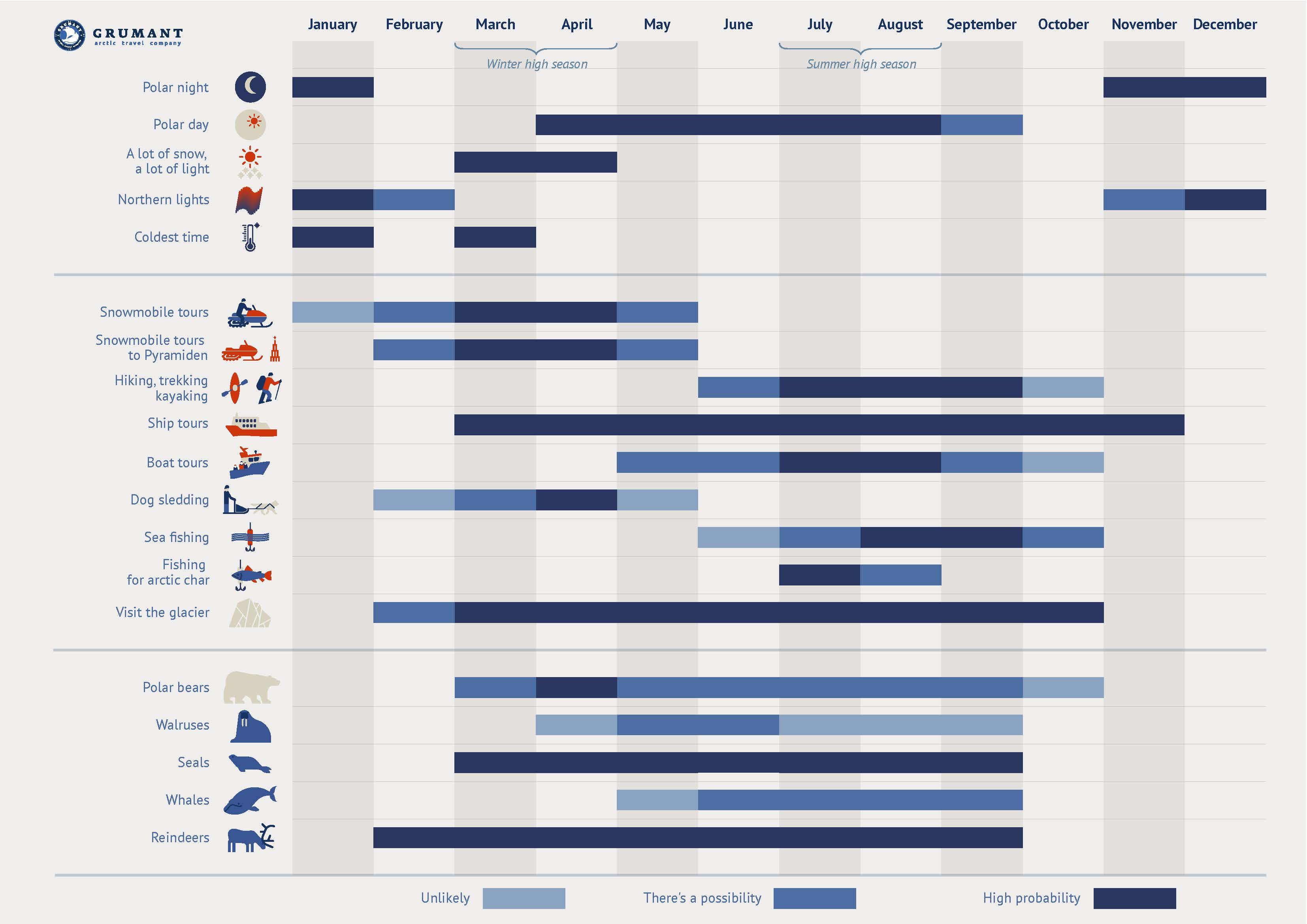 There are two main seasons that are drastically different from each other: Winter - by snowscooters, Summer - boats and hiking. You may contact us regarding your needs and desires and we will find you the most suitable option.
---
Do I need to bring my own equipment?
---
For the winter tours we provide you with all the necessary equipment:
Clothes:
- warm windproof and water-repellent coveralls Sinisalo (Finland) or similar, designed for the Arctic distribution of NATO border troops, as well as commissioned by travel companies in Spitsbergen. Overalls provide comfortable conditions for participation in snowmobile tours at temperatures ranging from -5 to -30 degrees of frost and compliance with recommendations for clothing. Overalls, whole (not separate), size range from ХХS to 7ХL (66). Put on thermal underwear with fleece pants and jacket (depending on temperature);
- two types of snowmobile helmets: with visor (not full-front, neck open) made of double plastic glass (polycarbonate), Zeus (Finland) and Modular (full-face) model "360". Helmets are selected depending on the temperature, complexity of the route, as well as convenience for the client;
- windproof synthetic liner with fleece (windstopper) covering the face;
- high warm snowmobile boots of the brand "Baffin" (USA), "Kamik" (Canada) or similar, providing comfortable participation in the tours at a temperature from -5 to -30 degrees. Sizes from 36 to 47;
- snow gloves and Scott gloves or similar.
All used special equipment meets the standards of safety, ecology, hygienic and aesthetic requirements, maximum convenience in use.
Technique: 2-seater snowmobiles, "BRP Expedition E-tec 600", "Lynx Limited E-tec 600".
All snowmobiles in good condition, 2014-2020 years of release. We would recommend you to pack next things: Clothes:
- woolen underwear - one base layer of woolen underwear next to your skin.
- woolen midlayer - thicker mid layer underneath the overall keeps you warm.
- two layers of woolen socks -one thin and one thick pair of socks keep your feet warm and dry.
- extra layer - jacket & pants - for colder days it might be wise to have an extra layer – wool, fleece or down.
- windproof mask or buff - to cover your face and neck from the cold wind.
- thinner gloves & windproof hat - thinner gloves to handle your camera and a hat to keep you warm.
- warm winter boots - to walk around the town before or after the trip.
- windproof layer - windproof outer layer (jacket and pants) for walking around the town.
Others:
- sunglasses & suncreem - don't underestimate sun radiation in high latitudes.
- camera equipment and binoculars - to enjoy every moment and keep in memory unforgettable, spectacular and fragile svalbard wilderness.
- contact lenses or goggles with spec lenses
- led flashlight (petzl);
- thermos capacity from 0.5 to 1 l;
- travel bag - we recommend to take travel bags with soft carcass as long as it will be easier and comfier for you to pack it onto a snowmobile. The size of the bag can be average but not too big.
Documents: passport, medical insurance. Driver's license is advisable. For the Summer tours: In summer, the average temperature is rarely higher than +11°C and it is not unusual when it's windy or rainy. While packing to Svalbard in summer, pay attention to the wind- and waterproof equipment. ​
woolen thermal underwear for medium activity
fleece jumper or woolen sweater
comfy pants for outdoor activities
trekking waterproof boots
wind- and waterproof jacket
knitted or fleece buff or scarf
The following items could also be useful:
binoculars for bird and animal watching
dry bag for luggage transportation
dry bag for devices, phones and/or cameras for that you could take photos during sea passages
---
What is the weather like?
---
As the Svalbard is positioned in the Golf Stream area, there is no extreme temperatures here. Average summer temperature is 5-10°C Average winter temperature is -15°, C March is the coldest month due to the winds For the weather forecast we use yr.no service.
---
How can I get to Barentsburg or Pyramiden?
---
Barentsburg is in 60 km from Longyearbyen, the capital of Svalbard. Pyramiden is located in 110 km from Longyearbyen. The car usage on the island is limited only by roads in the settlements that is why transportation between Longyearbyen, Barentsburg and Pyramiden is made by ships and boats or snowmobiles.
Please be advised that sightseeing by helicopters is not allowed according to the Svalbard Government regulations. FEBRUARY-APRIL Although sub-zero temperatures come to the archipelago in mid-September, the solid snowpack is formed only in January. Earlier the temperature jumps over 0° and the snow either melts or is blown away by the strong winds. The stabilized snowmobile transportation comes only in early February. ​ You can get to Barentsburg or Pyramiden either by snowmobile or book one of our tour programs where transportation to these destinations is included in the price. MARCH-NOVEMBER Navigation starts on March 1st and finishes on November 30th.

During this period, you can get to Barentsburg by boats of several companies located in Longyearbyen which are exactly by Henningsen Transport&Guiding or Polar Charter*.
There are either one-day boat trips Longyearbyen – Barentsburg – Longyearbyen with 1,5-2-hour stay in Barentsburg which includes a sightseeing guided tour around the settlement or you can come to Barentsburg, stay for overnight in our hotel Barentsburg or hostel Pomor and then next days you can leave back to Longyearbyen. *boat tours are organized depending on their occupancy rate; a minimal amount of passengers starts with 8 persons
*To get to Pyramiden by a boat or ship is still not possible though due to the ice thickness in that area. MAY-SEPTEMBER Arctic Travel company Grumant possesses 3 open boats Polarcirkel and 1 cabin cruiser. ​ ​PolarCirkel is an 8-meter-long boat of high endurance and created by Norwegian shipbuilders specifically for marine passages in the Arctic. The boats are equipped with a large power engine Yamaha (200 HP), echo sounders, emergency beacons, and marine radio communication. Therefore, we provide special Arctic rescue suits by Norwegian brand Hansen. It will keep you warm, protect from the wind, and give a boost of confidence during the boat trips. The way to Pyramiden is clear of ice starting with mid-June and tours to this town on boats become also available at this time. ​ There are individual transportation services that we offer by open boats Polarcirkel or a cabin cruiser for groups. Please kindly contact our office for booking and prices. ​ And also you can book one of our multi-day complex tours where transportation to Barentsburg is already included.
---
May I enter abandoned buildings in Pyramiden?
---
Unfortunately visiting buildings in Pyramiden is strictly limited. One of our main goals in Pyramiden is to preserve the Soviet Authentics and what is left. That's why you may enter those building only accompanied with the guide of Arctic Travel Company Grumant. Visiting of the most signature buildings like Canteen, Cultural Complex and Swimming Pool is included into the basic Pyramiden tour.
---
When can I see the Northern Lights on Svalbard?
---
It is indeed possible to see the Northern Lights and the highest chance for that is the Polar Night (November to February) but as most of the activity on Svalbard starts in February, when the polar night is over but it's yet not the Polar day, there is a chance to see it while on a tour with us starting from the middle of February and until the beginning of March. The most chances for that are with the tour Svalbard Stories as it starts in February.
---
Do I need Visa to visit Barentsburg or Pyramiden in addition to Schengen Visa?
---
We have only one Airport on Svalbard and it is in Longyearbyen, so even if you need transit visa for Norway. For Pyramiden and Barentsburg you don't need Russian Visa, as we are a part of Norwegian Archipelago.
---
---